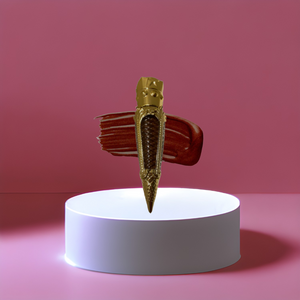 Rani Gloss in Chestnut
This lip gloss is a gorgeous sheer chestnut shade. It is smooth and gives the lips long lasting moisture for hours. Our glosses have a smooth formula and are non-sticky.
Rani means queen in several South Asian languages including Hindi, Urdu, Punjabi, and Bangla and this gloss comes in a crown shaped tube making the perfect staple and statement accrssory. 
Vegan + cruelty free. 
Ingredients: Hydrogenated Polyisobutene (and) Ethylene/Propylene/Styrene Copolymer (and) Butylene/Ethylene/Styrene Copolymer, sweet almond oil, cosmetic grade mica pigment, flavoring oil.