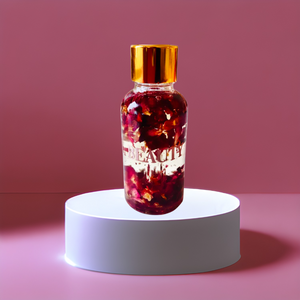 Rose Face Oil
Our lightweight yet deeply hydrating rose facial oil is a must have for glowing skin. Formulated with 100% organic cold-pressed rosehip seed oil, vitamin E oil, natural vitamin A, and infused with rose petals, this product is moisturizing but lightweight without clogging your pores and is suitable even for sensitive skin. Restores the skin barrier with a smoothing and 'plumping' effect without weighing down the skin. Packed with anti-aging nutrients to promote a healthy glow AND overall skin health.
Comes with serum dropper.
ABOUT THE FORMULA: Our formula is packed with natural oils good for the skin's overall look and health. This oil blend is rich in vitamin A, vitamin E, and linoleic acid - a naturally occurring Omega 3 fatty acid that protects and 'plumps' the skin barrier without weighing it down. 
Ingredients: 100% cold-pressed organic rosehip seed oil, rose, vitamin E oil. 
Fragrance free, silicone free, CF/Vegan.